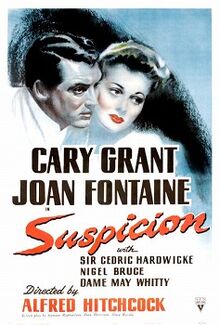 Suspiction is a movie directed by Alfred Hitchcock in 1941.
Young naive Lina McLaidlaw falls in love with handsome, irresponsible playboy Johnnie Aysgarth. They got married despite the strong disapproval of her wealthy father, General McLaidlaw. After a lavish honeymoon and returning to an extravagant house, Lina discovers that Johnnie has no job and no income, habitually lives on borrowed money, and was intending to try to sponge off her father. She talks him into getting a job, and he goes to work for his cousin, estate agent Captain Melbeck.
Later she catches Johnnie in significant lies, discovering that he was fired weeks before for embezzling from his cousin Melbeck, who says he will not prosecute if the money is repaid. After meeting Johnnie's good-natured but naive friend Beaky Lina thinks that Johnnie have a bussiness scheme. They leave to Paris but later news reaches Lina that Beaky died in Paris.
Lina starts to suspect Johnnie was responsible for Beaky's death. Then she begins to fear that her husband is plotting to kill her for her life insurance.
0:03:25 Walking a horse across the screen at the hunt meet.
0:44:58 Mailing a letter at the village postbox (long shot).